The photographer Jordi Socías (Barcelona, ​​77 years old) has just turned half a century "dedicated to a fantastic job, to the pleasure of observing", which has also allowed him to "almost go around the world", he says in a conversation at his home in Madrid. A long journey that he celebrates with an exhibition for which he has rescued images from his archive to which he has given a new meaning by uniting them in pairs. "They are photographs taken in different places and times, which when put together create a visual history," he says of the exhibition that can be seen at the National Museum of Romanticism, in Madrid, from June 14 to September 25.
Socías, self-taught ("I sold watches", he points out), learned photography in a correspondence course. In 1972 he published the first photo of him, in the magazine Change 16. In 1979 he founded the famous Cover photojournalism agency, and from then on he worked in different publications. The recognition came in a retrospective in 2005, at the National Library. Collaborator of The weekly country, where he was a graphic editor, he has dispensed with this exhibition, entitled a particular look, of labels and explanatory texts. Only the title that he has wanted to put to each diptych, which also does not have to be indicative of what the viewer sees, and a few words from Manuel Vicent about the way he looks. "Let each one imagine what they want and move to where they like", adds the photographer. Socías, accustomed to the rush of work for the press, to portray the moment, has preferred on this occasion to recreate himself in the aesthetic game, in which, as usual in his work, there are good doses of irony and surrealism.
This is what happens with the image chosen for the poster. A portrait of Chinese artist Ai Weiwei in which he poses with two Chinese balls that he places with his hands in front of his eyes. "It was in Lisbon, for an interview of The weekly country. I took the two balls and told him how I wanted to do the portrait, and he was perfect". In another image, the architect Norman Foster poses in front of a sculpture that, with its mouth open, looks as if it is going to gobble him up.
How do you get those characters to accept your challenge? "I don't get dizzy much. I've already thought about what I want to do, although when I get to the site I have to look at things like light. Photography is writing with light. But when I see the person, I build the image, and I try to be very fast, that everything is resolved in half an hour because if not, the character can be exhausted and so can I". This author assures that he has always been attracted to portray the characters of the culture. "In culture is the most interesting sediment of life."
All the culture that goes with you awaits you here.
subscribe
The cinema, "especially the new wavewith Godard, and Italian neorealism", on the one hand, and street photography, on the other, are some of the most evident influences on his work, as can be seen in the photo formed by the duo of a young man with a juke box and three men "in Sicily" who look suspiciously. The love for movies is logical in someone who was born "next to a cinema" in the Barcelona neighborhood of Sagrada Familia, in 1945, in a working class and republican family.
Man Ray's surrealism can also be appreciated, for example, in the juxtaposed image of a huge fake elephant on the shore of a beach with one of popular festivals in Lavapiés. Or the one made up of the interior of a bookstore packed with volumes that dialogues with three figures holding hands in a shop window: Lenin, Mickey Mouse and Jesus Christ. Where will that be? When? What does it mean? What does it matter, he is only interested in the viewer feeling what he wants when seeing that composition. It's the attraction of disjointed shots that take on new life by putting them together. Another different game is the one that he proposes in the photo that he calls "the sea and the land", formed by an octopus, on one side, and some potatoes, on the other, whose texture makes one doubt whether they are actually stones. .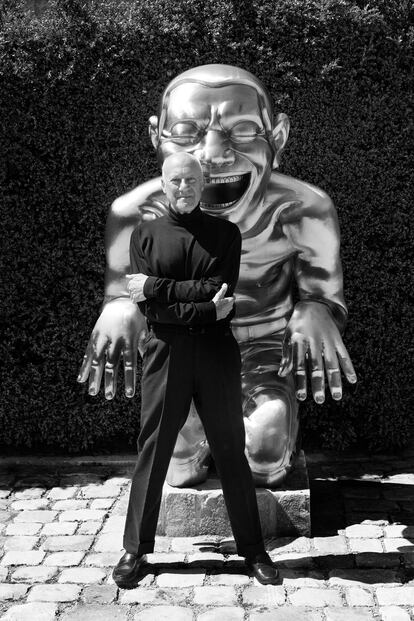 Back to the portraits, Socías, in one titled encrypted, Norman Foster and his wife, Elena Ochoa, are intuited, although some plots on their faces force us to squint our eyes to recognize them. "I like that it is not very well known who they are." The humor of the absurd emerges in the portrait of two great artists, Eduardo Arroyo, who died in 2018, and Luis Gordillo. The first surprises with make-up like a clown. "Eduardo had been telling me for a long time: 'I want to dress up as a poor clown'. While Gordillo wears a mask of his face, Mickey Mouse ears and a flashy shirt. He "bought it from a Chinese because the one he brought looked like a priest." They are the backstage of a session with friends.
Fifty years have passed in "this unique job", in which Socías asserts that his photographic gaze "has never been determined by technology", that he does not know about cameras (although in his time as a watch salesman he learned to repair them). Whether in analog or digital, the important thing has been for the eye to catch good images; neither can nostalgia ("any time in the past was not better, but earlier", he usually says), nor is he interested in the tsunami of narcissism, as the late photographer Jürgen Schadeberg said, which is the saturation of snapshots on social networks. "It's one thing to take photos and another to know how to see them."
50% off
Exclusive content for subscribers
read without limits